The Gold Planning Package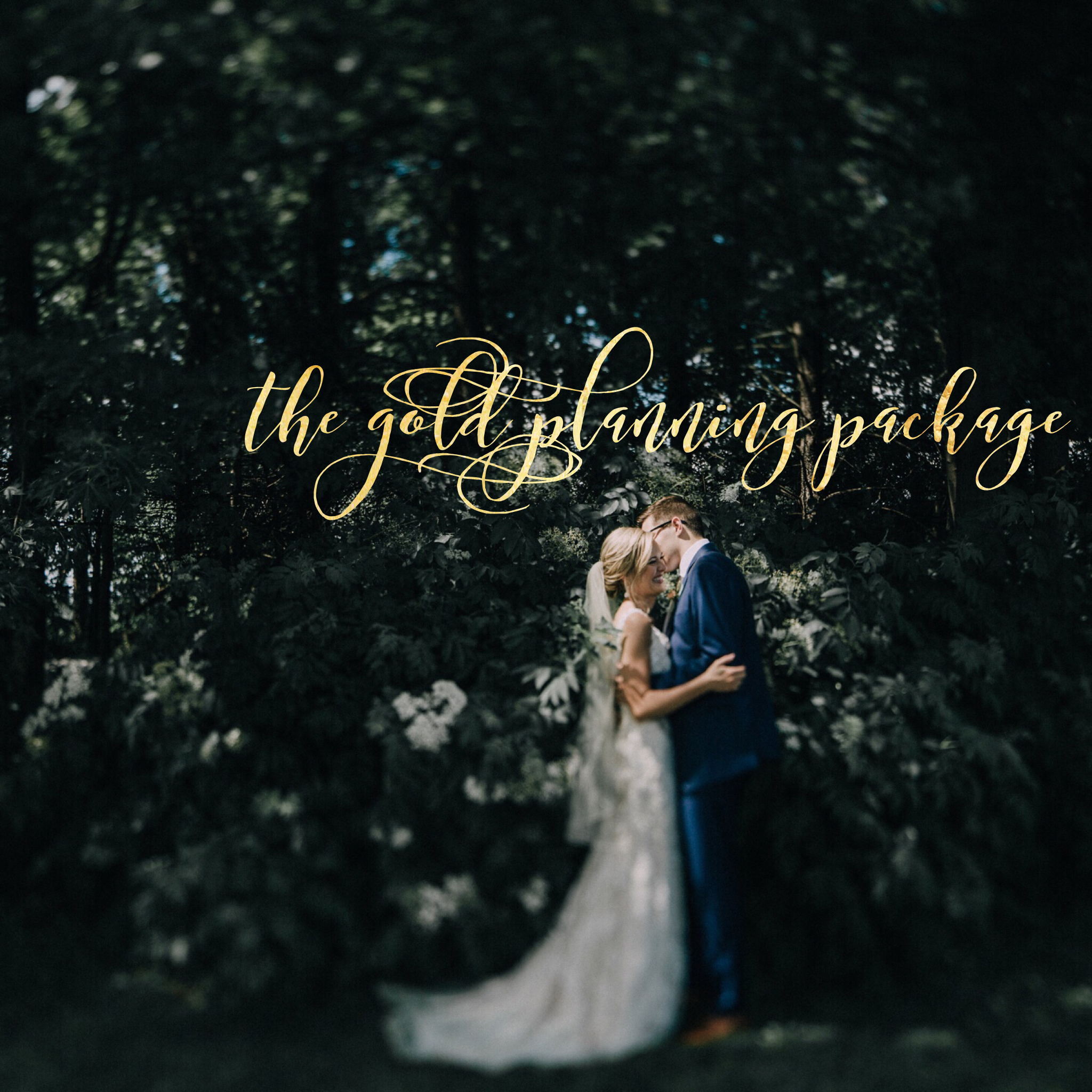 The Gold Planning Package
We will help you plan your wedding every step of the way with monthly check ins. Plus, we will help you keep your day on track and give you and all your favorite people freedom to fully enjoy your wedding day.
Extended Day of Coordination - up to 10 hours of service (consecutive or divided)
Need to break up your payments? No problem. Contact us to create your personalized payment plan.
Package Includes:
Initial Planning Meeting (we'll help you identify vendors to match your personality, clarify your wedding goals, & set you on a clear path so you know step by step what to conquer first).
Monthly Check In (via email or up to 20 min on the phone) - We will calm your nerves, identify a clear path for you to conquer next, & encourage you along the way! Typically check ins are conducted over the phone or via email, but you are welcome to schedule up to 2 of these to be held at our studio (up to 30 min each).
Wedding Planning At Your Fingertips. - Text or Email us your questions when they pop up & we will be happy to point you in the right direction.
Venue Walk Through
Personal Timeline PDF (built out just for YOU with bonus tips to help you stay on track & make the most of every moment along the way).
Custom Ceremony Cue Order Development (we'll help you set up what order everyone lines up & the details of your walk down the aisle).
Day of Coordination 10 Hour Extended Package PLUS Clean Up. Service hours typically are consecutive, but we may be able to split them up depending on the plan & needs for your day.
Day of Event:
Prior to Ceremony
Greet & Orient Vendors, Wedding Party, & Wedding Guests
Manage Wedding Day Surprises & Issues as they Arise
Manage Vendors & Ensure Proper Placement & Service is Being Provided
Ensure Ceremony & Reception is Decorated According to Plan
Set Up Guest Book, Place Cards, Programs, & More (with prior approval)
Greet Photographer & Videographer | Highlight Essential Shots
Manage Timing of Day of Events & Ensure Timeline Stays on Track or Seamlessly Adjust to Meet Your Needs & Desires
Greet & Orient Guests Arriving Early (Scheduled & Unscheduled)
Welcome & Orient Your Incredible Guest List
Answer Questions (There will be a bunch!)
Train in Ushers & Host(s) & answer their questions.
Coordinate Ceremony Flow w/ DJ, Vendors, & Officiant.
Cue guests to enter ceremony.
Line up family to be ushered in to ceremony & cue down the aisle.
Line up wedding party & cue down the aisle.
During the Ceremony:
Conduct Final Check & Touch Up of Event Space.
Light Reception Candles.
During Social Hour:
Cue guests into social hour & event spaces.
Answer questions and serve as an event host.
Cue wedding party to transition out of prep spaces.
Cue guests to enter reception.
Load gifts into desired vehicle.
Coordinate & direct ceremony site clean up (if desired).
Prior to the Reception:
Line up & cue wedding party grand march (if desired)
Collaborate with DJ to ensure seamless transition into their day.
Logistics:
Oversee shuttle service pick ups & drop offs (during service hours).
Ensure special guest needs are met.
Coordinate catering & bartending service to create a perfectly timed service start time and flow.
Provide direction to vendors doing load out (if applicable during service hours).
Move gifts from gift table to assigned vehicle (if requested)
Ensure seamless transition through meal, speeches / toasting, cake cutting, sunset photos, & first dance (if during service hours)
Work with security team to ensure seamless event (if hired for these hours)
And So Much More...