Guest Book | Cake Table | Signage & Photo Table | Programs - Gold Cart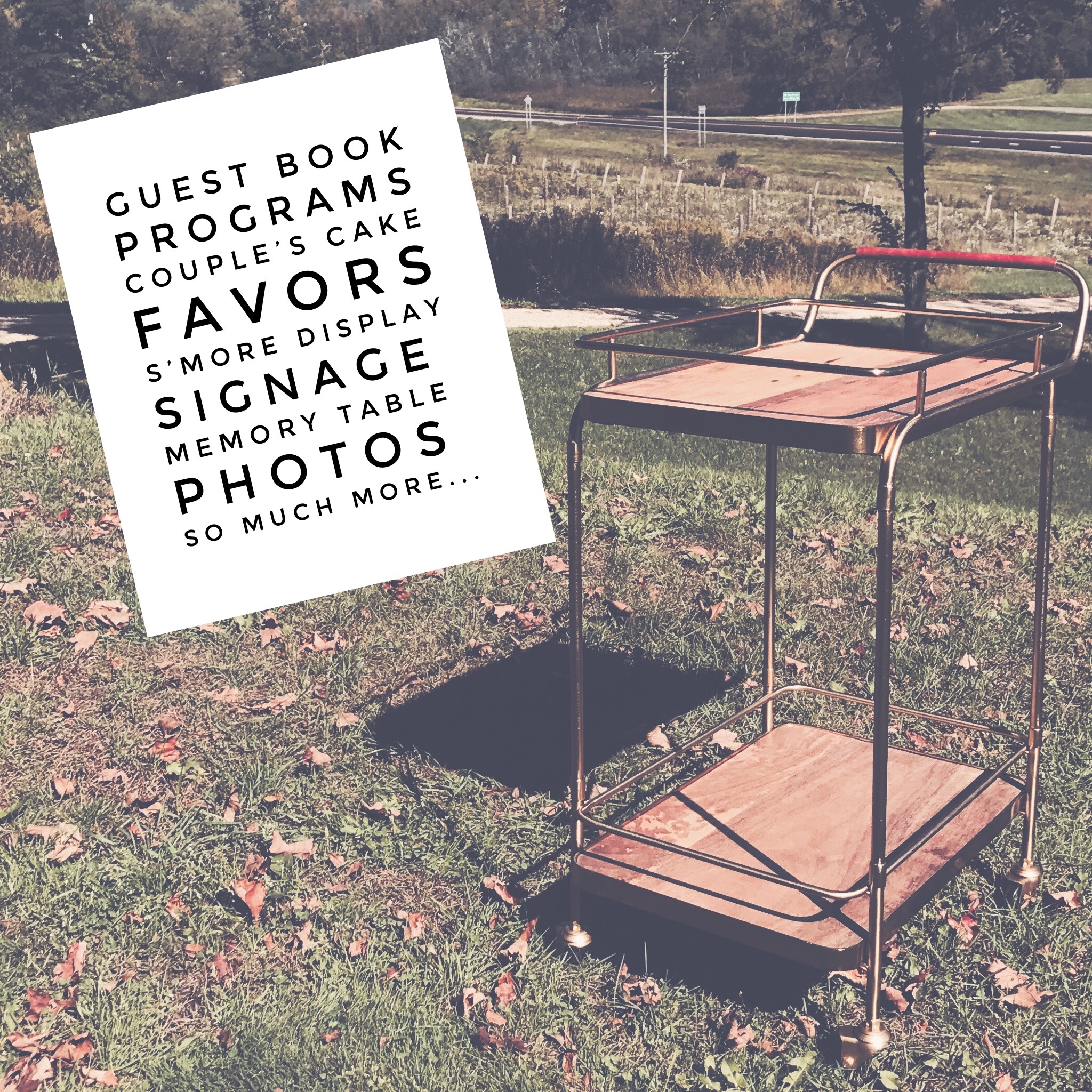 Guest Book | Cake Table | Signage & Photo Table | Programs - Gold Cart
This gold cart is the perfect way to display the special pieces of your day!
Ideas for how to use this spectacular new addition to the Hello Wildflower Collection:
Guest Book - Why You Will Love it: The perfect size for gathering sweet notes & autographs from your incredible guest list. We love the intimate size of this piece and love the design element that the lower shelf brings (We can't wait to see the pretty flower arrangements that show up here!).
Cake Table - Couple's cakes are all the rage and this gold cart is the perfect way to highlight your sweet dessert.
Signage & Photo Display Table - You know those adorable pictures of the two of you that you've been framing and collecting...and the super sweet signage filled with your favorite quotes...those pretty pieces are going to need somewhere to go and this piece is the perfect way for them to have a spot at your event.
Program Table - Give your programs the perfect level of added flair by pairing them with this gold bar cart.
S'more Table - Um...yes please...this would be adorable to display your s'more ingredients by the fire pit.
Side Table - Place this by your favorite chairs or sofas to build out the perfect spot for guests to be able to set their drinks while they lounge.
And So Much More...
The biggest thing we always see is that there is no shortage of purposes for tables and we have never ever heard, "Oh I wish we wouldn't have added that table..." Nope. Instead, we always hear, "Oh I wish we would have added a table here...here...and here."
That's why we are thrilled to have this versatile new addition to our Hello Wildflower collection!